Showing 1–16 of 48 results
Aluminum Casement Door

What is Aluminum Casement Doors?
Casement doors can be divided into single-open and double-open according to the number of door panels. Single-opening door means that there is only one door panel, one side is used as the door shaft, and the other side can be opened and closed, while the double-opening door has two door panels, each with its own door shaft, which opens in two directions.
Aluminium doors made by our fabrication factory are made from robust thermally broken aluminum profiles. Almost any project specification can be accommodated with a range of aluminum door profiles.
With the standard aluminum profiles, hinged aluminum doors can reach a maximum height of 3m and a maximum width of 1.4m per door opening.
You can create elegant side doors, rear doors, or balcony doors in slim aluminum frames with high levels of security and weather resistance.
The advantages of aluminum casement doors
1. High safety, no noise when opening and closing.
2. With more rubber protective layer.
3. It has higher resistance to wind pressure and leakage resistance.
4. It is an internationally recognized high-end door product.
Types of Aluminum casement door
A: Plan of aluminum swing door B: Indoor open C: Outdoor opening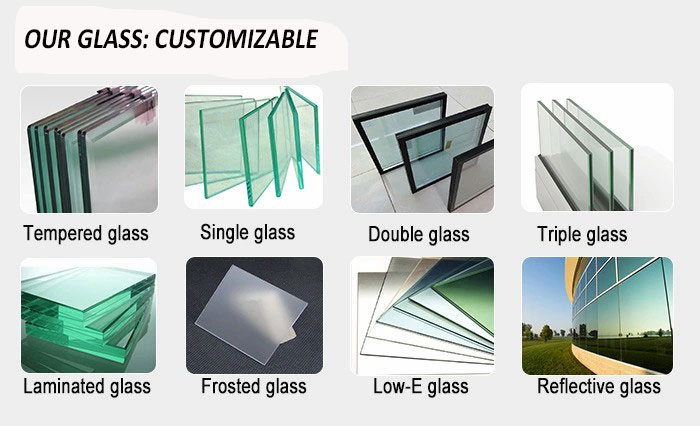 Modern Aluminium Glass Casement Doors
Designed with a low threshold door base, aluminium casement doors can open inward or outward depending on requirements.
Aluminium French doors are the perfect option for larger openings or modern Juliet balconies.
RAL colours are available for powder coating aluminium profiles. To ensure that your aluminium door meets your exacting requirements, we also have a range of lever/lever handles available.
Aluminum Casement Door Features & Benefits
Intricate finishing and fine smoothing are applied to all surfaces
Extra strength and energy efficiency are provided by the multichambered design
Enhances security with a multi-locking system
Thicknesses up to 2mm
Warp, corrosion, and flex-resistant
Non-corrosive, robust, and durable
Up to 10 feet tall
100% recyclable
Smooth movement can be achieved with 3-D hinges
Genuine OEM glass & hardware
Size, colour, and hardware customization
We offer both pivot and side-hung mechanisms
Aluminum Casement Door Configurations and Sizes
Depending on the layout of your project, we work with a variety of aluminium systems. We offer both inward and outward opening aluminium casement doors. French doors can also be specified with right or left hinges.
Standard door leaf sizes are 3m tall and 1.2m wide for all of our systems. On request, larger sizes may be available.
Our most popular aluminum swing doors are made of the smallest anodized aluminum frame and are available in 4 colors. The frame can choose 6 or 8 mm thick tempered glass. The frame is equipped with invisible pivot hinges and can be mounted on top of the finished surface without any built-in fixtures.
Aluminum French Glass Door
Door frames made of aluminium are becoming increasingly popular. Lightweight, stylish, and strong – it's the perfect combination. With slim modern frames, a classic design, and high security features, our aluminium French patio doors make the most of aluminium's strength and elegance.
What are aluminum French doors?
French doors are interior double doors that open outward via hinges. It gives the illusion of extra space by allowing full access to the width of the door opening. The first French doors were introduced in 17th century France as floor-length windows to let in more light and provide access to balconies. It's fancy.
Are aluminum French doors in style?
Patio doors aren't the only use for aluminum French doors. The large glass panels and sleek sightlines of aluminum French doors make them a classic design that offers many benefits. The installation of French internal doors in your house is a great way to bring in natural light, create a welcoming environment, and increase the value of your home. Additionally, their handle mechanism and toughened glass make them ideal for enhancing home security.
What types of aluminum French doors are available?
You can choose from classic white aluminum French doors, timeless oak French doors, or striking black aluminum French doors. Ideal for adding a modern touch to living rooms, bathrooms, and more.
Do you want something completely unique? A set of internal French doors can be supplied unfinished or primed in white. As a result, you can paint them any color you like. Bevelled glass, clear glass, and frosted glass are also available.
Find the right French doors for any style of property when you shop with us, from traditional homes to modern new builds. Find excellent prices on quality external French double doors.